Cadillac Escalade: Turning the RVC System On or Off
The RVC system is designed to help the driver when backing up by displaying a view of the area behind the vehicle. When the vehicle is shifted into R (Reverse), the video image appears on the navigation screen. After a delay, the navigation screen displays the last screen after the vehicle is shifted out of R (Reverse).
To turn the RVC system on or off:
1. Shift into P (Park).
2. Press the CONFIG hard key to enter the configure menu options, then press the CONFIG hard key to select Display or touch the Display screen button.
3. Select the Rear Camera Options screen button. The Rear Camera Options screen displays.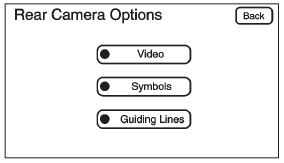 4. Select the Video screen button. When the Video screen button is highlighted the RVC system is on.
The delay that is received after shifting out of R (Reverse) is approximately 10 seconds. The delay can be canceled by performing one of the following:
Pressing a hard key on the navigation system.
Shifting in to P (Park).
Reach a vehicle speed of 8 km/h (5 mph).