Mercedes-Benz GL-Class: Telescopic rod
The telescopic rod can be used to secure the load against the rear seats to prevent it from moving around.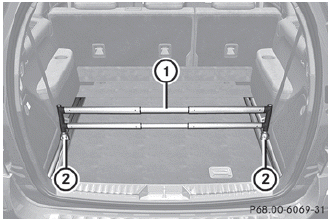 ► Insert one mounting element 2 into each loading rail.
► Turn mounting elements 2 in the loading rail to

.
► Insert telescopic rod 1 into mounting elements 2.
► Turn mounting element 2 to

until you feel it clearly engage in the loading rail.