Mercedes-Benz GL-Class: Seat belt retractor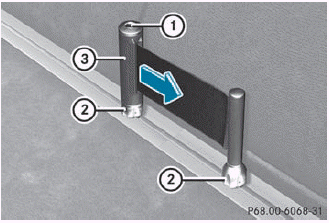 The inertia reel can be used to secure light loads against the side wall of the cargo compartment to prevent them from moving around.
► Insert two mounting elements 2 into a loading rail.
► Turn mounting elements 2 in the loading rail to

.
► Insert inertia reel 3 into mounting elements 2.
► Turn mounting element 2 to

until you feel it clearly engage in the loading rail.
► Press unlocking button 1 on inertia reel 3 and pull the cargo net out in the direction of the arrow.
► Place the load between the securing net and the cargo compartment side wall.
► Using one hand, press locking button 1 of inertia reel 3.
► With your other hand, slowly extend the net around the load until it is secure.