Infiniti QX: Roof rack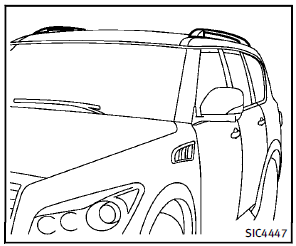 Always distribute the luggage evenly on the roof rack. Do not load more than 221 lb (100 kg) on the roof rails. Observe the maximum load limit shown on the crossbars or roof carriers when you attach them on the roof rails. Contact an INFINITI retailer for crossbar or other equipment information. Be careful that your vehicle does not exceed the Gross Vehicle Weight Rating (GVWR) or its Gross Axle Weight Rating (GAWR front and rear). The GVWR and GAWR are located on the F.M.V.S.S. or C.V. M.S.S. certification label (located on the driver's door pillar). For more information regarding GVWR and GAWR, see "Vehicle loading information" in the "9. Technical and consumer information" section.

WARNING

► Drive extra carefully when the vehicle is loaded at or near the cargo carrying capacity, especially if the significant portion of that load is carried on the roof rack.
► Heavy loading of the roof rack has the potential to affect the vehicle stability and handling during sudden or unusual handling maneuvers.
► Roof rack load should be evenly distributed.
► Do not exceed maximum roof rack load weight capacity.
► Properly secure all cargo with ropes or straps to help prevent it from sliding or shifting. In a sudden stop or collision, unsecured cargo could cause personal injury.

CAUTION
Use care when placing or removing items from the roof rack. If you cannot comfortably lift the items onto the roof rack from the ground, use a ladder or stool.