Mercedes-Benz GL-Class: Operation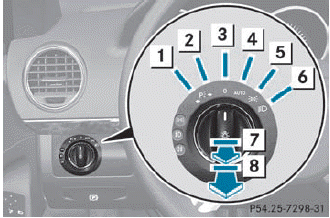 1

Left-hand standing lamps
2

Right-hand standing lamps
3

Lights off/daytime running lamps
4

Automatic headlamp mode/daytime running lamps
5

Parking lamps, license plate and instrument cluster lighting
6

Low-beam/high-beam headlamps
7

Vehicles without front fog lamps: rear fog lamp
7

Vehicles with front fog lamps: front fog lamp
8

Vehicles with front fog lamps: rear fog lamp
The turn signals, high-beam headlamps and the high-beam flasher are operated using the combination switch.

Switch off the parking lamps and standing lamps when you leave the vehicle. This prevents the battery from discharging.
The exterior lighting (except the parking/ standing lamps) switches off automatically if you:
• remove the SmartKey from the ignition lock
• open the driver's door with the SmartKey in position 0
If you hear a warning tone when you leave the vehicle, the lights may still be switched on.
► Turn the light switch to

.
or
► If the rear fog lamp is switched on: press the light switch in to the stop.