Range Rover: Occupant sensing
The front passenger seat is fitted with an occupancy sensor system that determines if the seat is unoccupied, occupied by a person of low weight, a child seat or object, or is occupied by a heavier person or object.
The system consists of:
• A weight sensing pressure pad installed under the front passenger seat cushion. The sensor measures downward pressure/ weight on the seat cushion.
• A seat belt tension sensor integrated into the anchor point of the front passenger seat belt.
• A control unit installed under the front passenger seat.
• An air bag status indicator lamp, mounted on the instrument panel.

WARNING
When checking the operational status of the front passenger air bag, ensure that the ignition is switched on.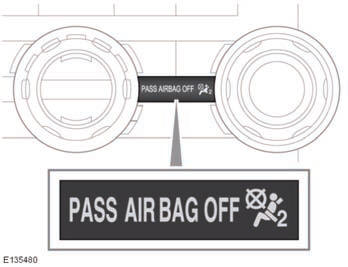 The system will adjust the passenger air bag status and operate the status indicator as follows: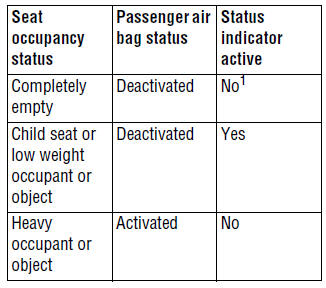 It is possible to receive an intermittent indicator with an empty seat condition. This is part of the system's adaptive behavior, and does not affect the status of the passenger air bag. However, if the indicator becomes permanently illuminated when the seat is definitely empty, then contact your Land Rover Retailer/Authorized Repairer immediately.
Note: In some cases a small child placed in a child seat will not activate the passenger air bag status indicator. If this occurs, the passenger air bag status will be as described for an empty seat, i.e. passenger air bag 'Deactivated' but the status indicator is not illuminated.

DANGER
Crash statistics show that children are safest when properly restrained in an child restraint system appropriate for their age and weight and secured in a rear seating position.

DANGER
Do not use a child restraint on a seat protected by an operational air bag in front of it. Doing so presents a high risk of death or serious injury to the child in the event of an accident.
Note: The indicator will only illuminate when the ignition is on or the engine is running.