Cadillac Escalade: Fog Lamps
For vehicles with fog lamps, they can be used for better vision in foggy or misty conditions. The parking lamps and/or low-beam headlamps must be on for the fog lamps to work.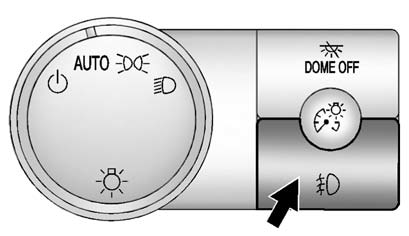 The fog lamp button is located on the left side of the instrument panel.

(Fog Lamps): Press to turn the fog lamps on or off. An indicator light comes on in the instrument panel cluster to show that the fog lamps are on.
Remember, fog lamps alone will not give off as much light as the headlamps. Never use the fog lamps in the dark without turning on the headlamps.
The fog lamps will go off whenever the high-beam headlamps come on. When the high beams go off, the fog lamps will come on again.
The fog lamps will be cancelled after the ignition is turned off. To use the fog lamps after restarting the vehicle, press the fog lamp button again.
Some localities have laws that require the headlamps to be on along with the fog lamps.