Mercedes-Benz GL-Class: Mounting a new wheel
WARNING


Always replace wheel bolts that are damaged or rusted.
Never apply oil or grease to wheel bolts.
Damaged wheel hub threads should be repaired immediately. Do not continue to drive under these circumstances

Contact an authorized Mercedes-Benz Center or call Roadside Assistance.
Incorrect wheel bolts or improperly tightened wheel bolts can cause the wheel to come off.
This could cause an accident. Make sure to use the correct wheel bolts.
WARNING


Only use genuine Mercedes-Benz wheel bolts.
Other wheel bolts may come loose.
Do not tighten the wheel bolts when the vehicle is raised. Otherwise, the vehicle could fall off the jack.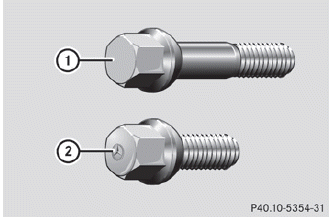 1 Wheel bolts for 19", 20" and 21" wheels
2 Wheel bolts for the "Minispare"emergency spare wheel

Always use wheel bolts 2 to mount the "Minispare" emergency spare wheel. Using other wheel bolts to mount the "Minispare" emergency spare wheel could damage the brake system.
WARNING


Make sure to use the original length wheel bolts when remounting the original wheel after it has been repaired.
► Clean the wheel and wheel hub contact surfaces.

To prevent damage to the paintwork, hold the wheel securely against the wheel hub while screwing in the first wheel bolt.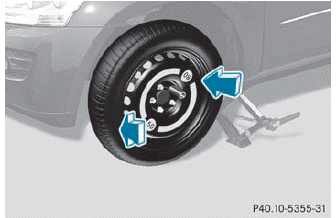 ► Slide the emergency spare wheel onto the alignment bolt and push it on.
► Tighten the wheel bolts until they are finger-tight.
► Unscrew the alignment bolt.
► Tighten the last wheel bolt until it is fingertight.