Mercedes-Benz GL-Class: Removing a wheel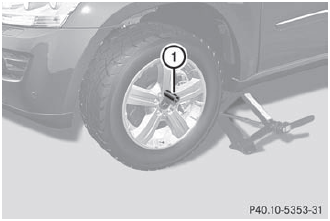 ► Unscrew the uppermost wheel bolt completely.
► Screw alignment bolt 1 into the thread instead of the wheel bolt.
► Unscrew the remaining wheel bolts fully.

Do not place wheel bolts in sand or on a dirty surface. The bolt and wheel hub threads could otherwise be damaged when you screw them in.
► Remove the wheel.