Cadillac Escalade: Liftgate

WARNING
Exhaust gases can enter the vehicle if it is driven with the liftgate or trunk/hatch open, or with any objects that pass through the seal between the body and the trunk/hatch or liftgate. Engine exhaust contains carbon monoxide (CO) which cannot be seen or smelled. It can cause unconsciousness and even death.
If the vehicle must be driven with the liftgate or trunk/hatch open:
Close all of the windows.
Fully open the air outlets on or under the instrument panel.
Adjust the climate control system to a setting that brings in only outside air and set the fan speed to the highest setting. See "Climate Control Systems" in the Index.
If the vehicle is equipped with a power liftgate, disable the power liftgate function.
For more information about carbon monoxide, see Engine Exhaust .
Notice: If you open the liftgate without checking for overhead obstructions such as a garage door, you could damage the liftgate or the liftgate glass. Always check to make sure the area above and behind the liftgate is clear before opening it.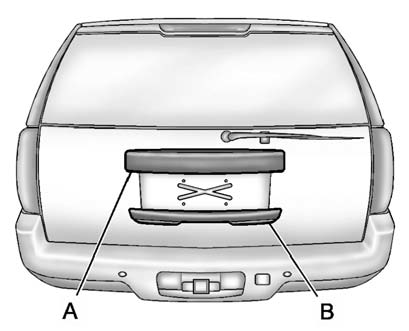 The liftglass or liftgate cannot be opened if the rear wiper is in motion. Attempting to open the liftglass or liftgate while the rear wiper is in motion will cause the release of the liftglass or liftgate to delay until the wipers are parked off the liftglass.