Infiniti QX: How to select menus on the screen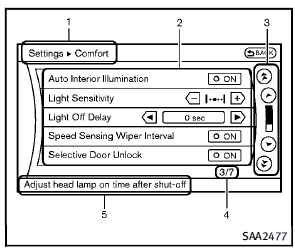 Vehicle functions are viewed on the display screen in menus. To select each key item, highlight the preferred item using the INFINITI controller and push the ENTER button. Whenever a menu selection is made or menu item is highlighted, different areas on the screen provide you with important information. See the following for details. 1. Header: Shows the path used to get to the current screen.
2. Menu Selections: Shows the options to choose within that menu screen.
3. UP/DOWN Movement indicator: Shows that the INFINITI controller may be used to move UP/DOWN on the screen and select more options.
4. Menu Items Counter: Shows the total number of items listed across all pages for the current menu.
5. Footer/Information Line: Provides more information (if available) about the menu selection currently highlighted.