Mercedes-Benz GL-Class: Fuse box in the engine compartment
► Open the hood.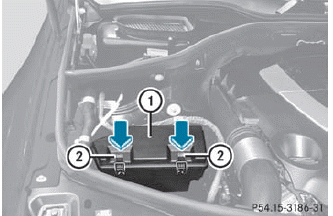 Illustrated: GL 450 (GL 350 BlueTEC, GL 550 are similar)
► Remove any existing moisture from the fuse box using a dry cloth.
► To open: open clamps 2.
► Fold up cover 1 and remove it towards the front of the vehicle.

Make sure that no moisture can enter the fuse box when the cover is open.
► To close: check whether the seal is lying correctly in cover 1.
► Insert cover 1 into the retainer at the rear of the fuse box.
► Fold down cover 1 and close clamps 2.

The cover must be positioned properly.
Moisture or dirt could otherwise impair the operation of the fuses.
► Close the hood.