Infiniti QX: Climate controlled seats (if so equipped)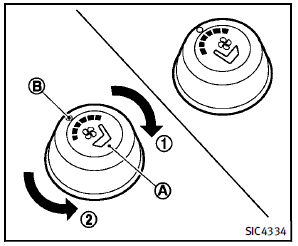 The climate controlled seat warms up or cools down the front seats by blowing warm or cool air from the surface of the seat. The switches located on the instrument panel can be operated independently of each other. 1. Start the engine. 2. Turn the control knob A to the heat side 1 or to the cool side 2 . The indicator light B on the control knob will illuminate. 3. Adjust the temperature using the control knob A . 4. When the vehicle's interior is warmed or cooled, and/or before you leave the vehicle, be sure to turn the control knob to the OFF position (center). The indicator light B on the control knob goes off at the OFF position. To check the air filter for the climate controlled seat, contact an INFINITI retailer.

WARNING
Do not use or allow occupants to use the seat heater if you or the occupants cannot monitor elevated seat temperatures or have an inability to feel pain in body parts that contact the seat. Use of the seat heater by such people could result in serious injury.

CAUTION
► The battery could run down if the climate controlled seat is operated while the engine is not running.
► Do not use the climate controlled seat for extended periods or when no one is using the seat.
► Do not put anything on the seat which insulates heat, such as a blanket, cushion, seat cover, etc. Otherwise, the seat may become overheated.
► Do not place anything hard or heavy on the seat or pierce it with a pin or similar object. This may result in damage to the climate controlled seat.
► Any liquid spilled on the seat should be removed immediately with a dry cloth.
► The climate controlled seat has an air filter. Do not operate climate controlled seat without an air filter. This may result in damage to the system.
► When cleaning the seat, never use gasoline, thinner, or any similar materials.
► If any malfunctions are found or the climate controlled seat does not operate, turn the switch off and have the system checked by an INFINITI retailer.