Mercedes-Benz GL-Class: ADS (Adaptive Damping System)
ADS is continuously electronically-controlled.
It adapts the damping characteristics to suit the current operating conditions. The damping is controlled for each wheel individually. This improves driving safety and tire comfort.
This depends on:
• your driving style
• the road surface conditions
• the ADS setting
• the vehicle level setting
Your selection remains stored even if you remove the SmartKey from the ignition lock.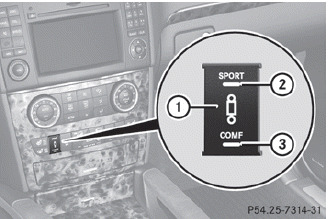 Vehicles without extended Off-Road Pro engineering package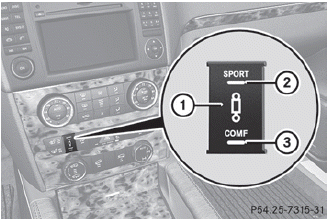 Vehicles with extended Off-Road Pro engineering package
You can choose between the following ADS settings:
• AUTO for normal driving situations; indicator lamps 2 and 3 are off.
• SPORT for sporty driving; indicator lamp 2 is on. In comparison with AUTO or COMF, the vehicle is lowered by 0.6 in(15 mm).
• COMF for a more comfortable ride; indicator lamp 3 is on.
► Start the engine.
► Press button 1 repeatedly until the desired setting is selected.