Range Rover: Adjusting the steering wheel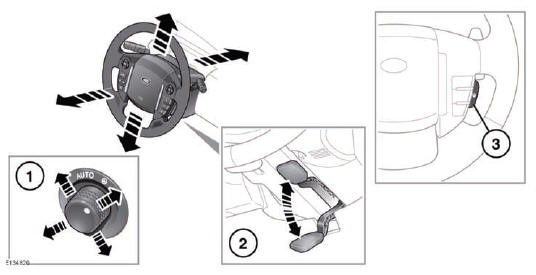 WARNING
Never adjust the steering column while the vehicle is in motion. Doing so may cause a loss of control, potentially resulting in an accident.
1. Electric adjustment: Move the control up or down to adjust the tilt/height. Move the control forwards or rearwards to adjust reach.
2. Manual adjustment: Move the locking lever (located under the column) downwards to unlock. Move the steering column up, down, in or out, to the desired position. Move the lever fully up to re-lock the column.
3. Heated steering wheel: Press to turn on and off. The switch indicator will illuminate amber when heating is on. When heating is off, the indicator illuminates green (with headlamps on) or does not illuminate (with headlamps off).