Mercedes-Benz GL-Class: Adjusting the multicontour seat
You can adjust the contour of the front seats individually so as to provide optimum support for your back and sides.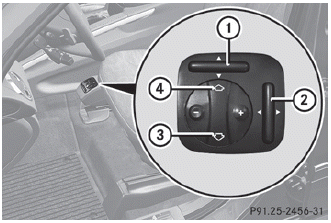 ► Make sure that the SmartKey is in position 2 in the ignition lock.
► Use switch 1 to move the thigh cushion into the desired position.
► Press the

button to adjust the contour of the backrest to suit your back.
► Press button 4 to move the point of greatest backrest curvature downwards to the lumbar region and press button 3 to move it upwards to the upper back region.
► Use button 2 to adjust the side bolsters for optimum lateral support.