Mercedes-Benz GL-Class: Adjusting the headlamps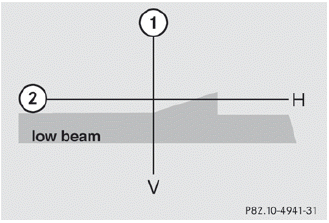 1 V vertical axis
2 H (horizontal) height, measured from the center
Setting the headlamps correctly is extremely important. Setting the high-beam headlamps also sets the low-beam headlamps. (The term headlamps covers both high and low beam.) To check and adapt the headlamp setting, proceed as follows:
► Park the vehicle on level ground at a distance of 25 feet (7.6 m) from a wall or similar.
► Make sure that the vehicle load is in the normal range.
► Switch on the low-beam headlamps

.
If the light of the headlamps is not distributed as shown in the illustration above, follow the instructions below:
► Open the hood.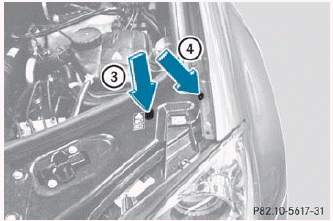 The adjustment screws are located under the cover.
► Insert a suitable tool into the openings in the cover. The directions of arrow 3 and 4 indicate the angle at which the tool needs to be inserted in order to reach the adjustment screws.
► Turn both screws uniformly until the vertical setting of the headlamp corresponds to 1. Turn the screws clockwise to adjust the headlamp upwards and counter-clockwise to adjust it downwards.
Gradation:
• Screw at arrow =: 0.67˚ angle of inclination
• Screw at arrow?: 0.50˚ angle of inclination
The left and right headlamps need to be adjusted individually.

If it is not possible to adjust the headlamps accurately, have the adjustment performed at an authorized Mercedes-Benz Center.