Cadillac Escalade: Adjustable Throttle and Brake Pedal
The vehicle has adjustable throttle and brake pedals that allow you to change their positions.
The feature will not operate when the vehicle is in R (Reverse) or while using the cruise control.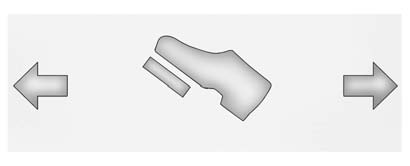 The switch used to adjust the pedals is located on the center console below the climate control system.
Press the right and left arrows to move the pedals either closer or further from your body.
Before you start driving, fully press the brake pedal to confirm the adjustment is right for you. While driving, make only small adjustments.
The vehicle has a memory function which allows the pedal positions to be saved and recalled. See Memory Seats .