Infiniti QX: 3rd row seats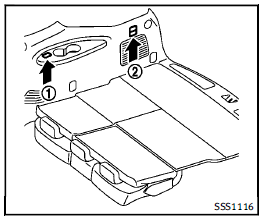 The 3rd row power folding seat controls are located behind the 2nd row seat (both the driver's and passenger's side) on the 3rd row cup holder console
1 . There are also controls located on the rear quarter trim panel behind the 3rd row seats (passenger's side)
2 . Before operating the 3rd row seats:
► Make sure the 2nd row seatback is not reclined.
► Lower the 3rd row headrest to the full down position.
► Disconnect and secure the center seat belt and tongues into the retractor base. See "3rd row center seat belt" later in this section. — Always reconnect the center seat belt when the seat is returned to the upright position
► Make sure that there are no objects on the seatback cushion.
Power reclining
Push and hold the rear side of the switch 1 beside the 3rd row cup holders until the desired seatback angle (up to 20 degrees) is obtained. To move the seatback forward again, push and hold the front side of the switch 2 until the desired angle is obtained.

WARNING

► After adjustment, check to be sure the seat is securely locked.
► Do not ride in a moving vehicle when the seatback is reclined. This can be dangerous. The shoulder belt will not be against your body. In an accident, you could be thrown into it and receive neck or other serious injuries. You could also slide under the lap belt and receive serious internal injuries.
► For the most effective protection when the vehicle is in motion, the seat should be upright. Always sit well back in the seat with both feet on the floor and adjust the seat belt properly. See "Precautions on seat belt usage" later in this section.
Power folding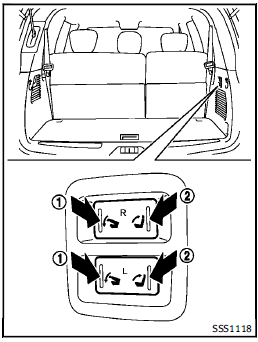 Push and hold the front side of the switch 1 located on the passenger side of the cargo room. The corresponding seatback (R: right side, L: left side) will be folded down automatically. Push and hold the rear side of the switch 2 . The seatback will be returned automatically. The seatback will rise up while holding the switch.
NOTE:
Operating the power folding seats can discharge the vehicle battery if the vehicle is not running.

CAUTION
When operating the rear power seatback return, make sure that the vehicle is stopped and the transmission is in the P (Park) position.

WARNING

► Never allow anyone to ride in the cargo area or on the rear seat when it is in the fold-down position. Use of these areas by passengers without proper restraints could result in serious injury in an accident or sudden stop.
► When returning the seatbacks to the upright position, be certain they are completely secured in the latched position. If they are not completely secured, passengers may be injured in an accident or sudden stop.
► Properly secure all cargo to help prevent it from sliding or shifting. Do not place cargo higher than the seatbacks. In a sudden stop or collision, unsecured cargo could cause personal injury.