Cadillac Escalade: Previous Destination
The previous destination entry method lets you select a destination from a list of previous destination points.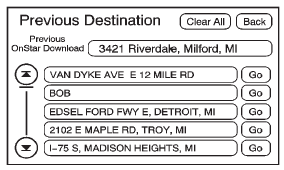 Previous Destination: Press to access the Previous Destination screen. The system stores up to 20 points that have been previously entered. As new destinations are entered, the system automatically deletes the oldest destinations and adds the new destinations.
To use the previous destination entry method:
1. Press DEST.
2. Press

.
3. Select a previous destination from the list. Use the arrow to the right of the destination to view the entire destination name as necessary. Use the scroll arrows to the left to scroll through the list.
4. Press GO, located next to the destination. The map screen, with the destination marked displays.
5. Select the route preference for Fastest, Shortest, or Other. The system calculates and highlights the route.
6. Press Start Guidance. The route is now ready to be started. See "Getting Started on Your Route" in this section for more information.