Mercedes-Benz GL-Class: Opening and closing the hinged sidewindows
The hinged side windows are operated electrically from the from the driver's seat.
WARNING


Make sure that nobody can become trapped as you close the hinged side windows. If there is a risk of somebody becoming trapped, release the switch or push the switch again to reopen the side window.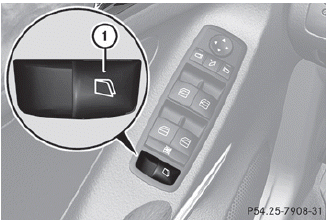 Door control panel
► Make sure that the SmartKey is in position 1 or 2 in the ignition lock.
► To open fully: press switch : and release.
► To close fully: pull switch : and release.
► To stop the closing procedure: press switch : again.
Both hinged side windows open fully.

If the hinged side windows are blocked when closing, the closing procedure is terminated and the hinged side windows open again slightly.

For safety reasons, the hinged side windows can only be opened again after four seconds.