Cadillac Escalade: Manual Mode
Driver Shift Control (DSC)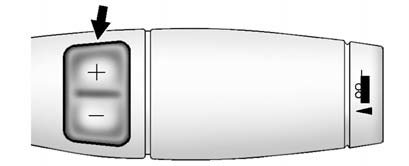 The vehicle has Driver Shift Control (DSC). DSC controls the vehicle's transmission and vehicle speed while driving down hill or towing a trailer by allowing you to select a desired range of gears.
To use this feature, do the following:
1. Move the shift lever to the M(Manual Mode).
2. Press the plus/minus button, to upshift or downshift selecting the desired range of gears for current driving conditions.
The DIC display will show the message MANUAL SHIFT on the first line and the current gear will be displayed on the second line. The number displayed in the DIC is the highest gear that can be used. However, the vehicle can automatically shift to lower gears as it adjusts to driving conditions. This means that all gears below that number are available. When 5 (Fifth) is selected, 1 (First) through 5 (Fifth) gears are automatically shifted by the vehicle, but 6 (Sixth) cannot be used until the plus/minus button located on the steering column lever is used to change to the gear.
Grade Braking is not available when the Driver Shift Control is active. See Tow/Haul Mode for more information.
While using the DSC, Cruise Control and the Tow/Haul Mode can be used.