Mercedes-Benz GL-Class: LATCH-type (ISOFIX) child seat anchorsin the rear
WARNING


Children that are too large for a child restraint must travel in seats using normal seat belts.
Position shoulder belt across the chest and shoulder, not face or neck.
In order to attain the correct seating position for children weighing over 41 lb (18 kg), it may be necessary to use a booster seat until they reach a height where a normal lap/shoulder seat belt lies properly across their bodies without the need for a booster seat.
Install the child restraint system according to the manufacturer's instructions.
The child restraint system must be installed firmly on both brackets.
An incorrectly installed child restraint system can come loose in the event of an accident, causing the child to be severely or fatally injured.
Child restraint systems/child restraint retaining brackets that are damaged or have suffered damage due to an impact must be replaced.
LATCH-type (ISOFIX) is a standardized securing system for specially designed child restraint systems on the rear seats.
Securing rings for two LATCH-type (ISOFIX) child restraint systems are installed on the left and right:
• on the rear seat backrests of the outer seats in the second row
• on the backrests of the seats in the third row of seats
Secure non LATCH-type (ISOFIX) child restraint systems using the vehicle's seat belt system. Always install child restraint systems according to the manufacturer's instructions.

When installing the child restraint system, make sure that the seat belt for the center seat does not get trapped. Otherwise, the seat belt could be damaged.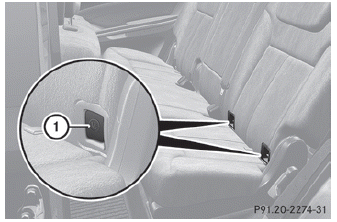 ► Remove covers 1.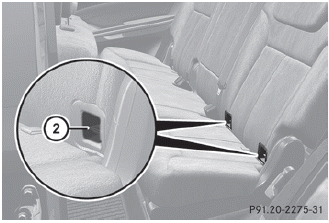 2 Securing rings
► Install the LATCH-type (ISOFIX) child restraint system. Comply with the manufacturer's instructions when doing so.