Infiniti QX: Front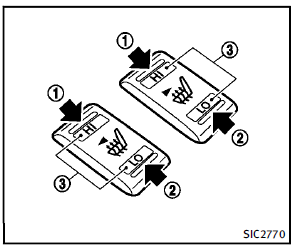 The front seats can be warmed by built-in heaters. The switches located on the instrument panel can be operated independently of each other. 1. Start the engine. 2. Select heat range.
► For high heat, push the HI (High) side of the switch 1 .
► For low heat, push the LO (Low) side of the switch 2 .
► The indicator light3 will illuminate when the heater is on. 3. To turn off the heater, push the "HI" or "LO" side (whichever is selected) of the switch. Make sure the indicator light turns off.