Range Rover: Entering follow mode

WARNING
When in follow mode, the vehicle will not decelerate automatically to a stop, nor will the vehicle always decelerate quickly enough to avoid a collision.
Note: Follow mode is an integral function of ACC. You cannot disengage follow mode and still use cruise control to maintain your speed.
Once a set speed has been selected, the driver can release the accelerator and the set road speed will be maintained.
When a vehicle ahead enters the same lane or a slower vehicle is ahead in the same lane, the vehicle speed will be adjusted automatically until the gap to the vehicle ahead corresponds to the default gap setting (gap level 3). The vehicle is now in follow mode.

The amber warning lamp in the instrument panel will be illuminated.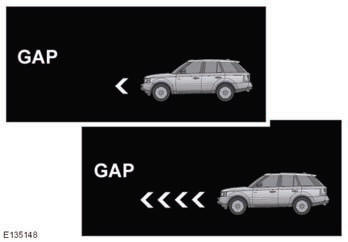 The message center will display the gap set. The vehicle will then maintain the constant time gap to the vehicle ahead until:
• The vehicle ahead accelerates to a speed above the set speed.
• The vehicle ahead moves out of lane or out of view.
• A new gap distance is set.
If necessary, the vehicle brakes will be automatically applied to slow the vehicle to maintain the gap to the vehicle in front.
The maximum braking which is applied by the ACC system is limited and can be overridden by the driver applying the brakes, if required.
Note: Driver braking will cancel ACC.
If the ACC system predicts that its maximum braking level will not be sufficient, then an audible warning will sound while the ACC continues to brake. DRIVER INTERVENE will be displayed on the message center. The driver should take immediate action. When in follow mode, the vehicle will automatically return to the set speed when the road ahead is clear, for instance when:
• The vehicle in front accelerates or changes lane.
• The driver changes lane to either side or enters an exit lane.
The driver should intervene if appropriate.