Cadillac Escalade: Emissions Inspection and Maintenance Programs
Some local governments may have programs to inspect the on-vehicle emission control equipment. For the inspection, the emission system test equipment is connected to the vehicle's Data Link Connector (DLC).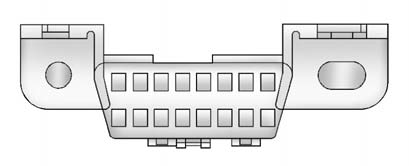 The DLC is under the instrument panel to the left of the steering wheel. See your dealer if assistance is needed.
The vehicle may not pass inspection if:
The malfunction indicator lamp is on with the engine running, or if the light does not come on when the ignition is turned to ON/RUN while the engine is off. See your dealer for assistance in verifying proper operation of the malfunction indicator lamp.
The OBD II (On-Board Diagnostics) system determines that critical emission control systems have not been completely diagnosed. The vehicle would be considered not ready for inspection. This can happen if the 12-volt battery has recently been replaced or run down. The diagnostic system is designed to evaluate critical emission control systems during normal driving. This can take several days of routine driving. If this has been done and the vehicle still does not pass the inspection for lack of OBD II system readiness, your dealer can prepare the vehicle for inspection.