Mercedes-Benz GL-Class: Driving over obstacles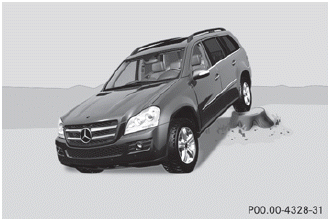 Obstacles could damage the floor of the vehicle or components of the chassis. Ask passengers for guidance when driving over large obstacles. The passenger should always keep a safe distance from the vehicle when doing so in order to avoid injury as a result of unexpected vehicle movements. After driving off-road or over obstacles, check the vehicle for possible damage, especially to the underbody and the components of the chassis.
Observe the following rules when driving over tree stumps, large stones and other obstacles:
• select the off-road drive program or the LOW RANGE off-road gear.
• avoid high engine speeds.
• select shift range 1.
• drive very slowly.
• try to drive straight over the center of obstacles: front wheel first, then rear wheel.