Range Rover: Door lock and release levers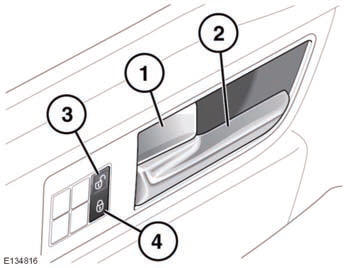 From inside the vehicle, all the doors can be locked by pressing either the driver or passenger lock lever (1).
Each rear door can be individually locked by pressing the appropriate locking lever.
To unlock and open a front door, pull the door handle (2). To unlock and open a rear door, first operate the lock lever, then pull the door handle.
Master lock/unlock buttons: To lock (4) or unlock (3) the vehicle, press the respective button on the door.
Note: The master unlock button is inhibited when the vehicle is locked with the Smart Key.