Mercedes-Benz GL-Class: Displaying the coolant temperature
WARNING


Driving when your engine is overheated can cause some fluids which may have leaked into the engine compartment to catch fire. You could be seriously burned.
Steam from an overheated engine can cause serious burns which can occur just by opening the engine hood. Stay away from the engine if you see or hear steam coming from it.
Stop the vehicle in a safe location away from other traffic. Turn off the engine, get out of the vehicle and do not stand near the vehicle until the engine has cooled down.
► Press the

button on the steering wheel to select the standard display.
► Press the

button to select the coolant temperature.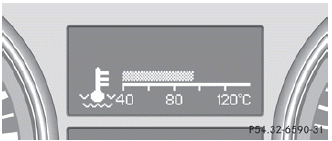 Under normal driving conditions, with the correct anti-corrosion and antifreeze additive concentration, the reading may rise to 248 °F(120 °C).

If the coolant temperature exceeds 248 °F(120 °C) do not continue driving. The engine will otherwise be damaged.