Mercedes-Benz GL-Class: Deactivating DISTRONIC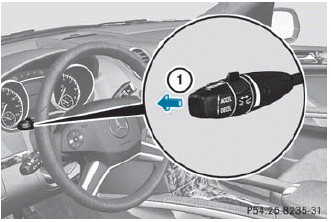 There are several ways to deactivate DISTRONIC:
► Briefly press the cruise control lever forwards 1.
or
► Brake.

The last speed stored remains stored until you switch off the engine.

DISTRONIC is not deactivated if you depress the accelerator pedal. If you accelerate to overtake, DISTRONIC adjusts the vehicle's speed to the last speed stored after you have finished overtaking.
DISTRONIC is automatically deactivated if:
• you apply the parking brake.
• you are driving slower than 20 mph (25 km/h) and there is no vehicle in front, or if the vehicle in front is no longer detected.
• ESP® intervenes or you deactivate ESP®.
• you shift the transmission to P, R or N.
If DISTRONIC is deactivated, you will hear a warning tone. You will see the DISTRONIC Off message in the multifunction display for approximately five seconds.