Range Rover: Switching DSC OFF

WARNING
Disabling the DSC may adversely affect vehicle stability and braking which in turn can lead to loss of control and increased braking distance, resulting in a rollover or crash.
In some driving conditions it may be appropriate to disable DSC to improve traction.
These conditions include:
• Rocking the vehicle out of a hollow or deep rut.
• Pulling away in deep snow, or a loose surface.
• Driving through deep sand or mud.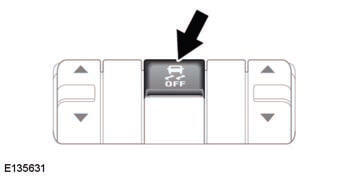 To disable DSC, press and briefly hold the DSC OFF switch on the fascia (the DSC off warning lamp will illuminate continuously).
Deactivating DSC also reduces the level of Traction control intervention and may lead to an increase in wheel spin.