Mercedes-Benz GL-Class: Switching on/off
The three blue indicator lamps in the buttons indicate the ventilation level you have selected.

If the battery voltage is too low, the seat ventilation may switch off.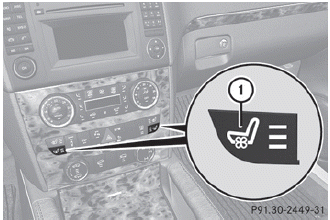 ► Make sure that the SmartKey is in position 2 in the ignition lock.
► To switch on: press button 1 repeatedly until the desired ventilation level is set.

You can open the side windows and the sliding sunroof using the "Convenience opening" feature. The seat ventilation of the driver's seat automatically switches to the highest level.
► To switch off: press button 1 repeatedly until all the indicator lamps go out.