Mercedes-Benz GL-Class: Steering wheel heating
Switching on/off
The steering-wheel heating heats the leather areas of the steering wheel.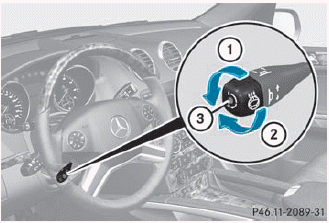 ► Make sure that the SmartKey is in position 2 in the ignition lock.
► To switch on/off: turn the lever in the direction of arrow 1 or 2.
Indicator lamp 3 lights up or goes out.
Problems with the steering wheel heating
If steering wheel heating indicator lamp 3 is flashing, the steering wheel heating has switched off automatically. The vehicle's electrical system voltage is too low because too many electrical consumers are switched on.
► Switch off electrical consumers which you do not need, such as the rear window defroster or interior lighting.
Once the battery is sufficiently charged, the steering wheel heating will switch back on automatically.