Mercedes-Benz GL-Class: Operating audio player or audio media
Audio data from various audio devices or media can be played, depending on the equipment installed in the vehicle.
► Switch on COMAND and select the audio device or medium (see the separate operating instructions).
► Press the

button on the steering wheel to select the Audio menu.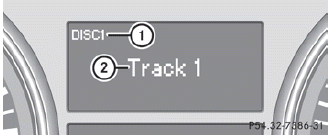 CD changer display (example)
1 Current CD
2 Current track
► To select the next/previous track:
briefly press the

button.
► To select a track from the track list (rapid scrolling): press and briefly hold the

button.
The current track will not be displayed in audio AUX mode (Auxiliary audio mode:
external audio source connected).