Mercedes-Benz GL-Class: Maximum tire pressure
WARNING


Never exceed the maximum tire inflation pressure. Follow recommended tire inflation pressures.
Do not underinflate tires. Underinflated tires wear excessively and/or unevenly, adversely affect handling and fuel economy, and are more likely to fail from being overheated.
Do not overinflate tires. Overinflated tires can adversely affect handling and ride comfort, wear unevenly, increase stopping distance, and result in sudden deflation (blowout) because they are more likely to become punctured or damaged by road debris, potholes etc.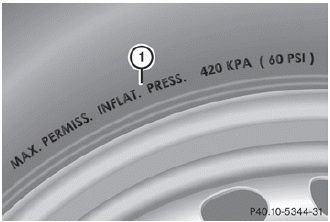 1 Maximum permitted tire pressure (example)

The actual values for tires are specific to each vehicle and may deviate from the values in the illustration.
When adjusting the tire pressures always observe the recommended tire pressure for your vehicle.