Mercedes-Benz GL-Class: Locking and unlocking centrally
The SmartKey centrally locks/unlocks:
• the doors
• the tailgate
• the fuel filler flap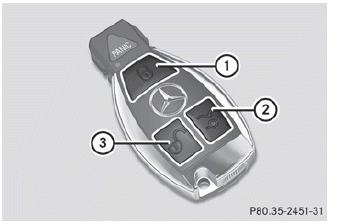 1

Locks the vehicle
2

Opens/closes the tailgate
3

Unlocks the vehicle
When unlocking, the turn signals flash once.
When locking, they flash three times.
When it is dark, the surround lighting also comes on if it is activated in the on-board computer.
You can also set an audible signal to confirm that the vehicle has been locked or unlocked.
The audible signal can be activated and deactivated using the on-board computer.
► To unlock centrally: press the

button.
If you do not open the vehicle within approximately 40 seconds of unlocking:
• the vehicle is locked again.
• the theft deterrent locking system is armed again.
► To lock centrally: press the

button.