Mercedes-Benz GL-Class: Installing/removing the towing eye
Installing the towing eye
Vehicles with a trailer tow hitch: if possible secure the towing device on the trailer tow hitch.
► Remove the towing eye from the vehicle tool kit.
WARNING


The exhaust tail pipe may be hot. You could burn yourself if you touch the tail pipe. Be particularly careful when removing the rear cover.
The mountings for the removable towing eyes are located in the bumpers. They are at the front and at the rear, under the covers.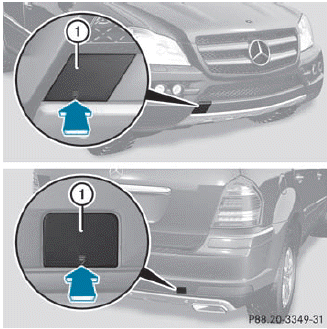 ► Press the mark on cover 1 inwards in the direction of the arrow.
► Take cover 1 off the opening.
► Screw the towing eye in clockwise to the stop and tighten it.
Removing the towing eye
► Loosen the towing eye and unscrew it.
► Attach cover 1 to the bumper and press until it engages.
► Place the towing eye in the vehicle tool kit.