Mercedes-Benz GL-Class: Important notes on tire pressure
WARNING


If the tire pressure drops repeatedly, check the tires for punctures from foreign objects and/or whether air is leaking from the valves or from around the rim.
The tire temperature and pressure increase when the vehicle is in motion. This is dependent on the driving speed and the load.
If you wish to drive at high speeds of 100 mph (160 km/h) or higher when this is allowed, use the tire pressure table on the inside of the fuel filler flap to set the correct tire pressures when the tires are cold. If the tire pressure is not set correctly, this can lead to an excessive build up of heat and a sudden loss of pressure.
For further information, consult a qualified specialist workshop, e.g. an authorized Mercedes-Benz Center.

Driving comfort can be impaired if the tire pressure value recommended in the tire pressure table for speeds over 100 mph(160 km/h) is adopted.
Make sure that the tire pressure for normal speeds is adopted again.
Additional specifications of tire pressure values for loads can also be found on the tire pressure table on the inside of the fuel filler flap.
The tire pressure for emergency spare wheels can be found:
• printed in yellow on the rim of the emergency spare wheel
• in the "Wheel and tire combinations" section in this manual
• on the Tire and Loading Information placard on the B-pillar on the driver's side.

Specifications shown in the examples of tire pressure tables are for illustration purposes only. Tire pressure specifications are vehicle-specific and may deviate from the data shown here. Tire pressure specifications applicable to your vehicle are located in your vehicle's tire pressure table.
Unless stated otherwise, the tire pressures specified on the fuel filler flap apply for all tires approved for this vehicle.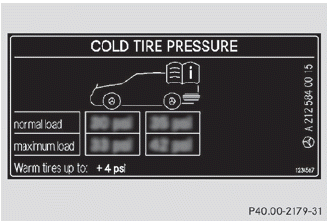 Tire pressure table for all tires permitted for this vehicle by the factory (example)
If a tire size precedes a tire pressure, the tire pressure information following is only valid for that tire size. The load conditions "partially laden" and "fully laden" are defined in the table for different numbers of passengers and amounts of luggage. The actual number of seats may differ.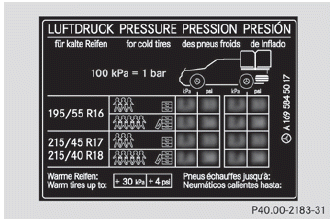 Tire pressure table with tire dimensions (example)
Some tire pressure tables show only the rim diameters instead of the full tire size, e.g.
R18. The rim diameter is part of the tire dimension and can be found on the sidewall of the tire.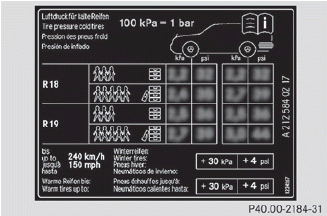 For trailer towing, adjust the tire pressure of the rear tires to the maximum tire pressure value stated on the table inside the fuel filler flap.