Cadillac Escalade: Heated Rear Seats

WARNING
If you cannot feel temperature change or pain to the skin, the seat heater may cause burns even at low temperatures. See the Warning under Heated and Ventilated Front Seats .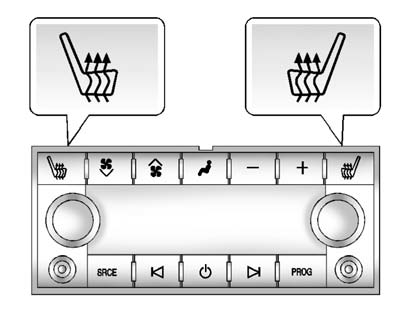 The buttons are on the Rear Seat Audio (RSA) panel on the rear of the center console.
Press

or

to heat the left outboard or right outboard seat cushion. An indicator on the RSA display appears when this feature is on.
Press the button once for the highest setting. With each press of the button, the heated seat changes to the next lower setting, and then the off setting. Indicator bars next to the symbol show the setting: three for high, two for medium, and one for low.
The heated seats are canceled ten seconds after the ignition is turned off. To use this feature after the vehicle is restarted, press the desired button.