Mercedes-Benz GL-Class: Fuel filler flap emergency release
WARNING


Avoid contact with the vehicle walls as they may contain sharp edges. Otherwise, you could injure yourself while releasing the fuel filler flap.
The emergency release is located in the cargo compartment behind the side trim on the right-hand side, when viewed in the direction of travel.
► Open the tailgate.
► Open the right-hand side trim panel.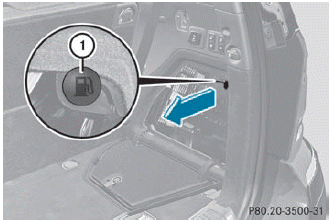 ► Pull emergency release : in the direction of the arrow.
The fuel filler flap is unlocked.
► Open the fuel filler flap.