Infiniti QX: During a call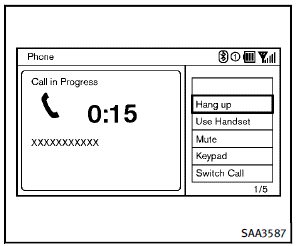 There are some options available during a call. Select one of the following displayed on the screen if necessary.
► Hang up
Finish the call.
► Use Handset
Transfer the call to the cellular phone.
► Mute
Mute your voice to the person.
► Keypad
Using the touch tone, send digits to the connected party for using services such as voicemail.
► Cancel Mute
This will appear after "Mute" is selected. Mute will be canceled.
► Switch Call
Select "Switch Call" to answer another incoming call. By selecting "Hang up", you can end a call and can speak to a caller who is on hold again. This function may not be usable, depending on the model of phone. To adjust the person's voice to be louder or quieter, push the volume control switch (+ or −) on the steering wheel or turn the volume control knob on the instrument panel while talking on the phone. This adjustment is also available in the SETTING mode.