Range Rover: Checking the dynamic response fluid level

WARNING
Dynamic response fluid is highly toxic. Keep containers sealed and out of reach of children. If accidental consumption of fluid is suspected, seek medical attention immediately.
If the fluid comes into contact with the skin or eyes, rinse immediately with plenty of water.

NOTICE
Do not start the engine if the fluid level has dropped below the MIN mark. Severe damage to the Dynamic response system could result.
Seek qualified assistance immediately if there is a noticeable drop in the fluid level.
If fluid loss is slow, the reservoir may be topped-up to the upper level mark to enable the vehicle to be driven to a repair facility for examination. However, it is recommended that you seek qualified assistance before driving the vehicle.
Do not attempt to drive the vehicle to a repair facility, if there is a danger that leaking fluid will come into contact with a hot surface, such as the exhaust.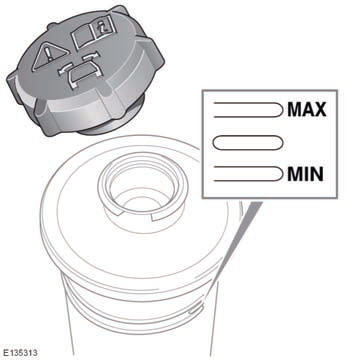 Check the level through the side of the transparent reservoir, without removing the filler cap.
The fluid level should be maintained between the MIN and MAX marks.