Cadillac Escalade: Battery Replacement
Replace the battery if the REPLACE BATTERY IN REMOTE KEY message displays in the DIC. See "REPLACE BATTERY IN REMOTE KEY" under Key and Lock Messages for additional information.
Notice: When replacing the battery, do not touch any of the circuitry on the transmitter. Static from your body could damage the transmitter.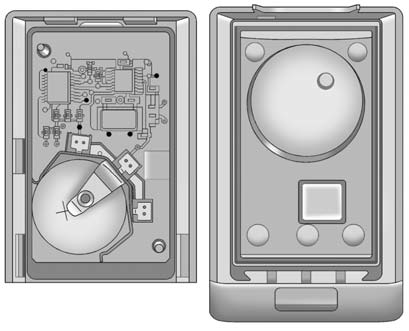 To replace the battery:
1. Separate the transmitter with a flat, thin object inserted into the notch, located above the metal base.
2. Remove the old battery. Do not use a metal object.
3. Insert the new battery, positive side facing up. Replace with a CR2032 or equivalent battery.
4. Snap the transmitter back together.