Mercedes-Benz GL-Class: Ashtray in the rear-compartment centerconsole

Close the ashtray when it is not in use and before you fold the rear seats forward. You can otherwise damage the ashtray.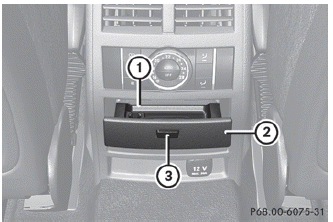 ► To open: briefly press marking 2.
Ashtray 2 opens.
► To remove the insert: lift insert 1 up and out.
► To install the insert: mount insert 1 from above into the holder and press down into the holder until it engages.