Mercedes-Benz GL-Class: Approach/departure angle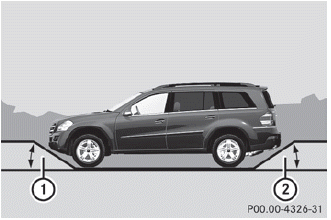 1 Approach/departure angle, front
2 Approach/departure angle, rear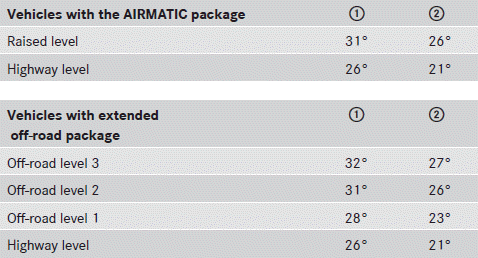 • Comply with the rules for off-road driving.
• Do not drive at an angle on slopes, inclines or gradients, but instead follow the direct line of fall. The maximum gradient-climbing capability of your vehicle is 100%, which corresponds to an approach/departure angle of 45°. Note that the vehicle's gradient-climbing capability depends on the off-road conditions.
• Before tackling steep downhill gradients, select shift range 1.
• Drive slowly.
• Avoid high engine speeds – drive at a suitable engine speed (maximum 3000 rpm).
• Use the braking power of the engine when driving down a slope. Observe the engine speed, do not overrev the engine.
• Check the brakes after driving off-road for a long time.
WARNING


Never turn the vehicle around on steep inclines. The vehicle might roll over. If the vehicle cannot complete the attempted climb, back it down in reverse gear.

Hill start assist will aid you when pulling away on a hill.
For more information, see "Hill start assist".