Range Rover: Air bags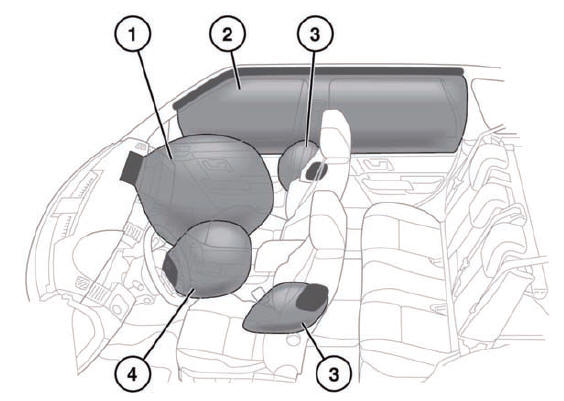 1. Passenger front air bag.
2. Main curtain air bag.
3. Side air bags.
4. Driver's front air bag.
Note: The general location of air bags fitted to the vehicle are marked by the word AIR BAG.

DANGER
High speed impacts may cause serious injury or death irrespective of safety features fitted to the vehicle. Always drive with caution and consideration for the vehicle's characteristics, road and weather conditions, and do not exceed any speed limits in force.

DANGER
Seat belts should be worn at all times, by the driver and passengers in all seating positions. The air bag supplementary restraint system (SRS) cannot provide protection in some types of impact. Under these circumstances, the only protection will be provided by a correctly worn seat belt.