Mercedes-Benz GL-Class: Adjusting the seats

Vehicles without Memory function: the seats can be adjusted within three minutes of a front door being opened.
The time period starts over again if, within these three minutes, you:
• open or close a front door
• insert the SmartKey into the ignition lock or remove it from the ignition lock
• switch the ignition on or off
If the SmartKey is in position 2 in the ignition lock, the seats can be adjusted at any time.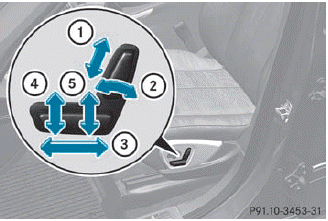 1 Head restraint height
2 Backrest angle
3 Seat fore-and-aft adjstment
4 Seat cushion angle
5 Seat height

Vehicles with Memory function: If PRESAFE ® has been activated, the frontpassenger seat is moved to a better position if it was previously set unfavorably.

You can store the seat settings using the memory function.