Mercedes-Benz GL-Class: Adjusting the exterior mirrors
WARNING


Exercise care when using the passenger-side exterior rear view mirror. The mirror surface is convex (outwardly curved surface for a wider field of view). Objects in mirror are closer than they appear. Check your interior rear view mirror and glance over your shoulder before changing lanes.
The exterior mirrors are automatically heated if the rear window defroster is switched on and the outside temperature is low.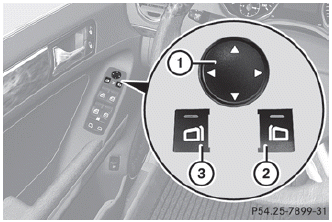 ► Make sure that the SmartKey is in position 1 or 2 in the ignition lock.
► Press button 2 for the right-hand exterior mirror or button 3 for the left-hand exterior mirror.
The indicator lamp in the corresponding button lights up in red.
The indicator lamp goes out again after some time. You can adjust the selected mirror using adjustment button 1 as long as the indicator lamp is lit.
► Press adjustment button 1 up, down, to the right or to the left until the exterior mirror is set to a position that provides you with a good overview of traffic conditions.