Range Rover: Using ACC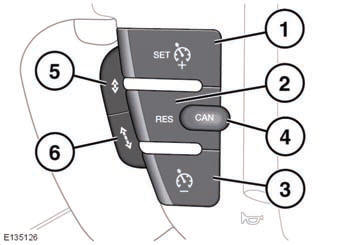 1. SET+: Press to increase or set the speed.
2. Press to resume the set speed.
3. Press to decrease the set speed.
4. CAN: Cancels, but retains the set speed in memory.
5. Press to decrease the gap.
6. Press to increase the gap.
The system is operated by controls mounted on the steering wheel. The driver can also intervene at any time by use of the brake or accelerator pedals.
Setting the vehicle speed, activating, and deactivating ACC, is done in the same way as when using cruise control.